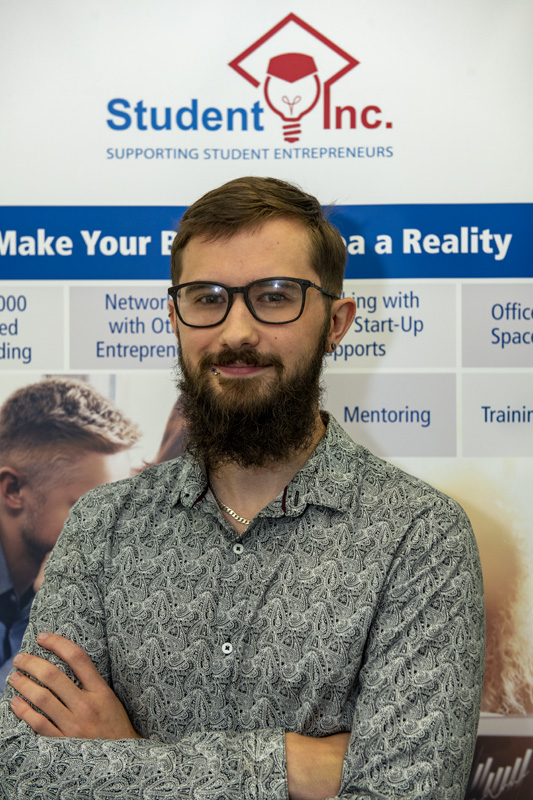 Course: Electronic Engineering
Year of study: 3rd year
College: Cork Institute of Technology
Business name: TouchShield
Sector: Healthcare
Business idea: A wearable electronic device that would help the staff in hospitals and nursing homes to break the face touching habit.
Plans for September 2020
I plan to spend the remainder of September developing a finished prototype.
Student Inc. Programme Highlights:
I enjoyed the social aspect of the rubicon office
Any previous entrepreneurship experience before you joined Student Inc.?
So, I began selling all my old toys at car boot sales when I was 6 and continued for years. I began buying items off done deal, restoring them and proceeding to sell them on for profit. I finally made a net return of 2000 euro from my business selling cans of coke in 4th year in secondary school.
What connections did you make on the programme?
Many invaluable connections such as:
Carole O' Leary – Business Opportunity verification
Maria Coakley – Marketing
Paul Healy – Funding and Business Plan
George Bullman – BMC and Feasibility studies
Ronan Coleman – Intellectual Property
Danny Sheehan – Market size and segmentation
Brian O Kane – key activities, costs and partners
Mike McGrath – Pitching Skills
What advice would you give to someone thinking of applying to Student Inc.?
Keep on top of assignments and you get what you put into this programme
What was your greatest learning from the programme
Definitely just the confidence that starting a business is achievable, as beforehand I was so knowingly ignorant to all the ins and outs business aspects such as funding, documentation and manufacturing that they would have been too daunting for me to attempt.
Apply to Ireland's Longest
Running Student Accelerator