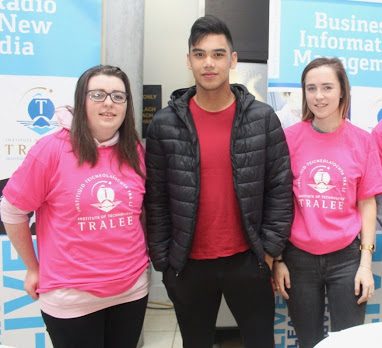 Course: Information Systems Management
Year of study: Graduate
College: Institute of Technology Tralee
Business name: Stathlete
Sector: Sports Technology
Business idea: A team fitness tracking technology targeted for the GAA and team sports.
Plans for September 20
20
:
In the coming months, I plan to continue developing Stathlete into the business I have envisioned for it to be. Investors, grants and loans and other programmes should help Stathlete continue the current rapid rate of growth. Stathlete aims to have their first trial customer by the end of September from which we can learn from to help continue developing our service, system and business proposition.  
Student Inc. Programme Highlights:
The main highlight of the programme was the knowledge I learned from the various workshops and discussions with mentors and other like-minded entrepreneurs. The knowledge I acquired from the programme has helped Stathlete work efficiently and effectively throughout the three months. Gaining a deeper knowledge into areas such as market validation, market opportunity and the business model has certainly given me a new level of confidence as an entrepreneur.  
Any previous entrepreneurship experience before you joined Student Inc.?
Prior to Student Inc. I did not have any practical entrepreneurship experience. However, I did have educational exposure to various entrepreneurship and business modules during my time in the Institute of Technology Tralee. This gave me a strong foundational knowledge of the key concepts in starting and running business as well as the characteristics and behavioural aptitudes of an entrepreneur. 
What connections did you make on the programme?
I have made invaluable connections throughout the programme. The growth of Stathlete can be credited to the expert guidance the Student Inc. mentors has provided. The programme has also provided Stathlete with the opportunity to meet and discuss with individuals who have vast experience in the GAA and Sports Technology. The relationships and friendships made with other passionate entrepreneurs added to my overall experience in the Student Inc. Programme.  
What advice would you give to someone thinking of applying to Student Inc.? 
I would strongly encourage individuals with a potential business idea to apply for the programme. Some may see it as a daunting process but the outcomes and skills you learn from the programme far out-weighs the fear of pursuing a business. The programme gives you the opportunity to work on something you are truly passionate about.  
What was your greatest learning from the programme? 
Being customer focused was my biggest takeaway from the programme. As I learned throughout the programme and my own market research and validation, the customer is the most vital aspect of the business. It is vital that you identify that there is a need for your business as well as a demand for it. Without a customer, there is no business.